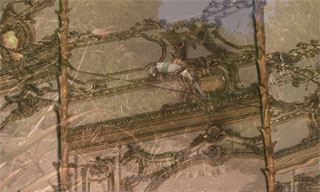 &nbsp&nbsp&nbsp&nbsp&nbsp
Fugitive Refrains was conceived and produced collaboratively with Butoh-trained dancer/choreographer Erin Ellen Kelly during a residency at the Akademie Schloss Solitude in Stuttgart, Germany. It was developed for, performed, and shot on HDV in six specific sites in the Solitude Rotwildpark forest and in the historic site of Schloss Solitude in summer 2006, edited in New York in fall 2006, scored by Qasim Naqvi in California in winter 2006-07, and premiered at the Akademie in spring 2007 as an immersive surround sound video installation, with a video projection covering a full wall of the room containing the video and the score and ambient sound moving from speaker to speaker throughout the space. The title of the video is derived from a line in a Wordsworth poem written a few decades after the construction of Schloss Solitude: "That nature yet remembers/what was so fugitive."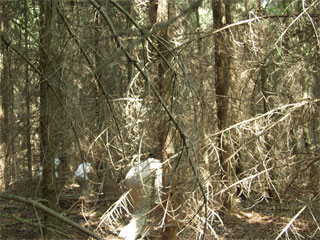 &nbsp&nbsp&nbsp&nbsp&nbsp
Schloss Solitude is a pleasure palace built by Duke Carl Eugen in the late Rococo period, and contains one of the first examples of trompe l'oeil wood ever used in European architecture. The imitation of nature, in the belief that artifice could make nature better than nature itself, was typical of the late Rococo. Constant play with figure, ground, and false perspective, through trompe l'oeil and the use of mirrors, was another important facet of the aesthetic. The ornate design of the Schloss extended at the time into the forest surrounding it, which was originally intended as a vast hunting preserve stretching between and used by the castles of several different aristocrats in the area. An elaborate garden was planned, though never completely finished, just behind the Schloss, while the existing nature behind it was re-configured to accomodate the Duke's amusements, with grottos, paths, clearings and orchards planted into the forest in preparation for costume parties, and a system of artificial lakes dug into the hills for an annual gondola procession.
&nbsp&nbsp&nbsp&nbsp&nbsp
Our project explored the forest as it is today for traces of the garden that once was projected onto it. We looked for sites where the landscape still remembers the human desires that shaped it and the pleasures once pursued there, and where the artifice of design has decayed into an almost-natural order. In these sites we used movement to outline the forms of what was or what might have been, the ruins of a plan now perceptible only in peripheral vision, working with ideas of movement drawn from the Rococo aesthetic - playing with perceptions of figure and ground, and embodiment between human and natural. We also shot the ornamental forms and figurations of nature in the interior architecture of the Schloss, in order to create an interplay onscreen between mirrors and echoes, nature and artifice, faux and real.